ESG Blog: HPE Re-Discovers Its Roots and Looks Forward to an Intelligent Edge (Video)
Author: Bob Laliberte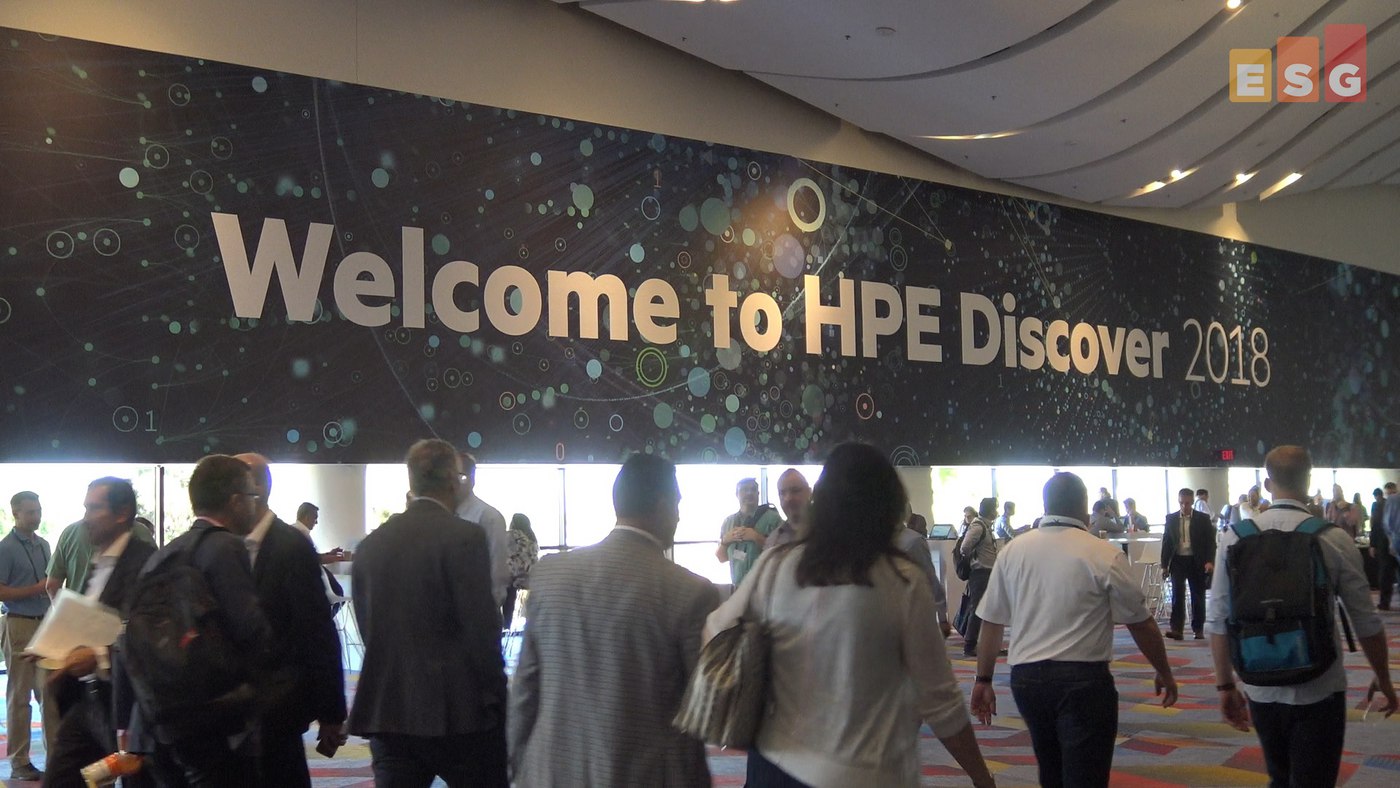 This year's Discover event was the first time the 20-year HPE employee and engineer, Antonio Neri took the stage as President and CEO. Antonio was engaging and humble – a very approachable CEO, he seemed to be acutely aware of the HP legacy, but is determined to drive HPE forward.
I take this as a good sign. HPE, it appears, is returning to its engineering roots and will be focused on innovation. A great example of this is the $4 billion-dollar R&D investment for the Intelligent Edge that Antonio committed HPE to over the next four years. Plus, based on the conversations I had last week with many different people at many different levels, this change of leadership seems to be highly motivating for the 60,000 or so HPE employees, as there seems to be a universal spark, perhaps a sense of urgency to innovate and deliver valuable solutions to their customers.
HPE focused on three main themes: Edge Centric, Cloud Enabled, and Data Driven.
Starting with Edge Centric, we already mentioned the investment in the Intelligent Edge, but beyond that, HPE also announced new solutions to help support the effort, including the software-defined (SD) branch. This solution comes from Aruba and combined unified cloud management and policies across the wired and wireless LAN as well as the WAN. By adding SD-WAN capabilities, delivered via SD-WAN gateways, HPE can now provide end-to-end policies and management from the edge to the DC or cloud. In addition, HPE announces a new compact and ruggedized compute platform called Edgeline Converged Edge System, enabling organizations to bring enterprise applications (SQL, SAP HANA, Citrix XenApp/Desktop, and others) to the edge. This will be important for organizations looking to perform real-time analytics at the edge or for remote and difficult locations, like oil rigs, communications towers, etc., to deploy compute infrastructure.
Next is Cloud Enabled and HPE wasted no time in announcing two new services that will be delivered via Pointnext. Those offerings include GreenLake Flex Capacity for partners, and GreenLake Hybrid Cloud. The first, Flex Capacity, is a program for channel partners that provides a pay-per-use model for on-premises solutions. These deployments are powered by HPE infrastructure and leverage Cloud Cruiser technology to base payments on virtually any metric you would like to track--per VM, per core, etc., ...you get the point. HPE will leverage OneView to manage these HPE environments. The GreenLake Hybrid Cloud service takes advantage of two relatively new acquisitions, Cloud Technology Partners (CTP) and Red Pixie, to create hybrid cloud (on- and off-premises) environments with AWS and Azure leveraging each company's respective strengths. This offering is powered by OneSphere and can be deployed on HPE only or competitive solutions and has been designed to help manage and optimize complex hybrid cloud environments. HPE expects other public cloud choices to be rolled out over time.
Lastly is HPE's focus on Data Driven. There has been a lot of discussion recently about data being the new currency and its importance to organizations that can leverage it effectively. Namely that collecting and analyzing this data will yield significant benefits for customer experience and competitive advantages. While HPE's Intelligent Storage leverages machine learning to power its InfoSight solution, the big announcement at Discover for data driven solutions was around Memory-Driven Computing (MDC). These are solutions aimed at solving big data problems by bringing the compute to the data, instead of the data to the compute. HPE will offer organizations a chance to leverage MDC via a Sandbox that will house a development environment to experiment with MDC. This will be powered by an HPE Superdome Flex utilizing software-defined scalable memory.  
My colleague Mark Peters commented that Bill and Dave must be smiling from above seeing an engineer running HPE again. That is probably true, especially if HPE can drive real innovation to the market, like we are seeing with the Memory Driven Computing and SD-Branch initiatives. As the pendulum swings away from consolidated to distributed, HPE is positioning itself to take advantage of the shift to the edge, cloud, and data-intensive workloads. Discover, and the announcements, were all a good start in the right direction and so I look forward to tracking their adoption and progress over the rest of this year and next.  
Watch the video below and read this HPE Discover 2018 blog by my colleague Mark Peters for more insight. 
Video Transcript
Announcer: The following is an ESG On Location video.
Mark: Welcome to HPE Discover here in Vegas. Out of these conferences, it's interesting to talk about the usual, the unusual, the new, the old. I'm standing in front of these green rectangles because they represent something usual that we've seen before, but there was also a lot of new and unusual things here. So talking about the usual. Whenever you come to these conferences for big system vendors, you're gonna here a lot of the same terminology, whether that is cloud, or edge, or machine learning, whatever it might be these days. You also hear some things that were, if you like, new before and are coming to fruition. Memory-driven computing is something that is now actually becoming real, as far as HPE goes.
The biggest new thing here is the leader of the company, Antonio Neri who's taking over, and with him, also a bunch of people moving around and new people coming into the company as well. One of the key takeaways here and it's really interesting to talk about this at the beginning of this report is a palpable sense of urgency, almost a little sort of anger, if you like, amongst the employees of the company, that they don't get enough credit. So I think we'll see more of that over the coming years.
But meantime, to get into some of the specifics of what I'm now gonna start calling "Big Green" is doing, I'm gonna hand it to my colleague, Bob Laliberte.
Bob: HP now has a new CEO, Antonio Neri. And potentially a nod to HP's roots, there's now an engineer running the company. Couldn't be more clear evidence of that when in his keynote, he announced that he was now going to be committing $4 billion over the next four years to innovation in what they refer to as the Intelligent Edge. This is clearly an area of focus for HP and an area where Antonio believes there's going to be a lot of future growth.
That coincided really well with a lot of the key themes that were reiterated throughout the course of the event of the last few days. Organizations need to be edge-centric, cloud-enabled, data-driven. There were a number of announcements this week that really helped drill that home, the first of which was a GreenLake announcement for Flex Capacity for partners. And what this is going to do is allow partners to deliver on-premises equipment and solutions in a capacity-based pay-as-you-go model. GreenLake will be a hybrid cloud offering. Now this offering leverages the capabilities of the newly acquired companies like Cloud Technology Partners and RedPixie to enable organizations to develop and build hybrid cloud environments between their own customer prem and with AWS or Azure for now, with more to follow.
Another key announcement was around the software-defined branch. While it was this specific announcement was adding SD-WAN, it was more than just adding the feature, it was the integration of SD-WAN into Aruba's Cloud Central and also into ClearPass as well. And what that enabled organizations to do now is to provide unified management and policy across the wired, wireless, and WAN. So a big advantage for those organizations looking to simplify and provide a higher level of security across those branch offices back to the data center or to cloud environments.
There are also Edgeline converged infrastructure that was announced, to allow organizations to bring enterprise apps out to the edge and connect to the clouds in a rugged, compact format. And there was also announcements around memory computing, where instead of the data coming to the compute, the compute goes to the data and for manipulating high volumes of data at very high rates of speed. And this last piece is probably more indicative of the innovation that HP is looking to drive and bring back into its portfolio.
Mark: So there's an enormous amount going on at HPE. One of the things I mentioned at the beginning that's a challenge with this sort of show in this sort of big company, however, is the simple fact that you're gonna hear a lot of the same words. So you hear about cloud. You hear about edge. You hear about data transformation. You hear about big data. You hear about machine learning and so on. It's difficult sometimes to separate the actual word from the meaning and impact of the word.
So just as a strange comparison, I happen to be watching the TV and looking at the weather forecast for Las Vegas. Now, you can stand in many parts of the globe and hear the word hot. Here in Vegas, hot really means something, as you can see. And this is the thing, I think, for HP. It may use many of the same words, as many other vendors in the industry, but I think the breadth and ability of HPE means that when it says some of these things, it really means something.
At the last Discover, I was at Milan, I talked about the fact that the company was very hot from a technology perspective, but really haven't managed to make itself cool. And I think some of the cultural change, some of that palpable feeling of energy is really what's gonna make a difference. So if I was to sum it up, yes, there was a lot of talk at this conference about HPE investing in the edge, but I think what we're gonnas see is HPE actually getting a little edge of its own.