ESG Blog: 2018 Data Protection Predictions (Video)
Author: Edwin Yuen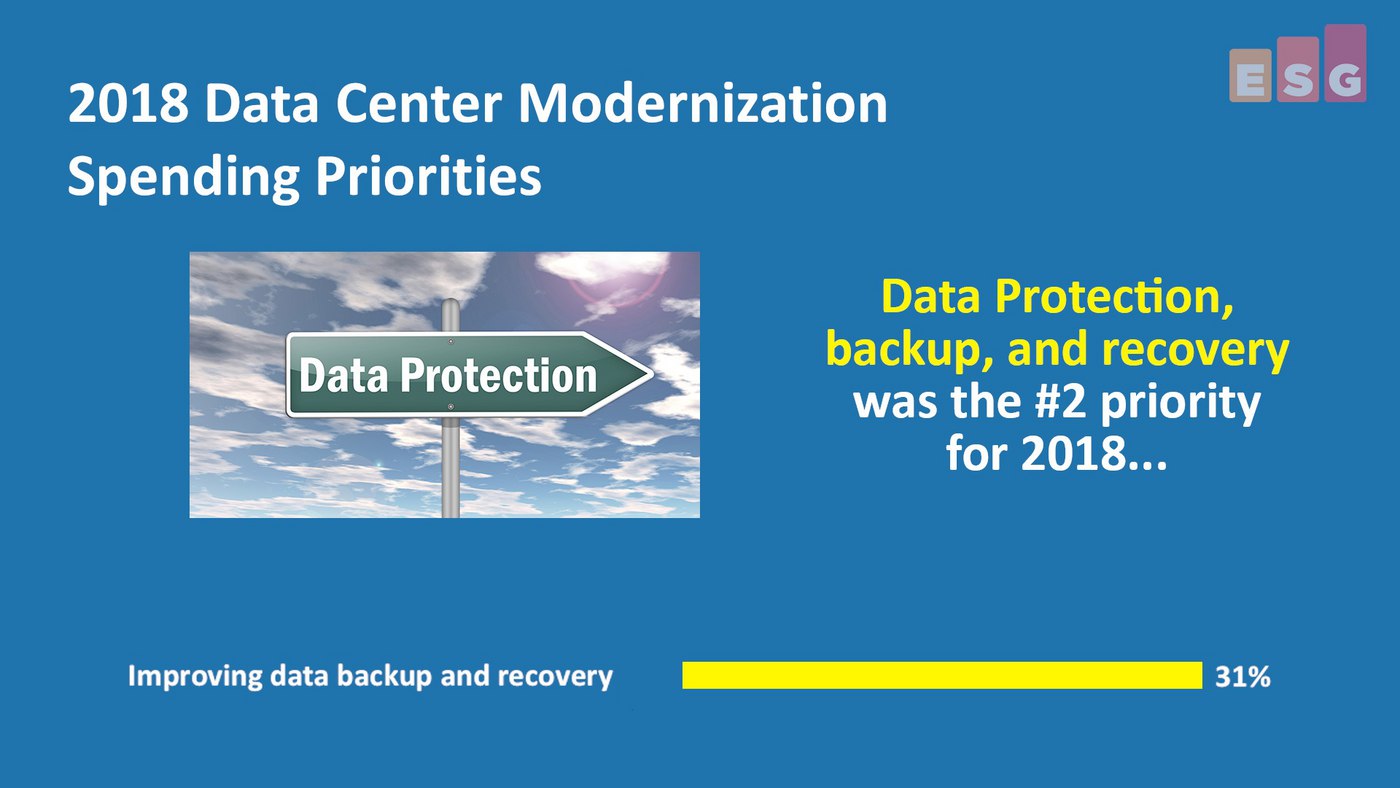 With 2018 in full motion, I wanted to add my 2018 predictions for my new coverage area, Data Protection. I've posted a video with my predictions below but here are the key points that I talk about in the video.
There continues to be a movement of Data Protection features into other IT operations areas. We are seeing Data Protection included as part of many Systems Management solutions, showing how backing up, protecting, and restoring data should be part of a larger systems management experience. We are also seeing the shift from Data Protection to Data Management, as vendors recognize the value in understanding and helping manage the data they are protection.
Data Protection is playing a greater and greater role in security, as malware attacks force companies to need to restore from their data backups to recover from attacks, all while malware and ransonware tools have been starting to attack backups and network shares to further wreak havoc.


While the Data Protection market continues to evolve, the core functions of backup and recover continue to be incredibly important. In ESG's 2018 IT Spending Intentions survey, greater use of server virtualization and improved backup and recovery were the #1 and #2 most-cited IT spending priorities for data center modernization.


Finally, 2018 will be the year we see the full impact of GDPR, not just for European companies but for any company that does business in Europe. With the need to comply with this regulation, the ability to understand, locate, and delete data will be critical and much of the execution will impact Data Protection, changing how companies manage their data.
Finally, don't forget to read and watch my 2018 predictions blog and video on Systems Management for further insights into what will emerge in IT in 2018.
Video Transcript
Edwin Yuen: Hi. I'm Edwin Yuen, ESG Senior Analyst for Systems Management, Data Protection, DevOps and PaaS. And today I'd like to go over my predictions for data protection in 2018.
The first prediction I have is really about the movement of the data protection business, and a lot of the vendors and products, into functions beyond just what is traditionally known as core data protection. Now, obviously, we're seeing the existing movement of data protection into a larger systems management role, and into systems management software, such as System Center from Microsoft and the vRealize Suite from VMware. But we're also seeing the alignment of data protections functions going up into other areas. A good example is that so many vendors are doing data management, which is having a better understanding of what the data holds. Having metadata, or tags, or functions, associations with applications, understanding what the data is, beyond merely just holding onto the data, and restoring it and backing it up. Another area is that it's going into a security phase, where we're seeing ransomware or other security attacks go beyond just a single event-based system. We're seeing ransomware attack data shares and backups to try to prevent recovery, but the data protection vendors have that information, so they can really help and work with the ransomware prevention groups and the security groups in order to restore the data in very timely fashion.
The other thing we're gonna see in 2018 is the continued importance of data protection. Even as data protection moves into other areas, I don't see it actually going away. Within the ESG IT spending intentions survey this year, what we found was that data protection, data backup, and recovery was the number two data center modernization priority for 2018. And increased server utilization, which often drives a lot of data protection, was number one. So I still see a significant amount of movement and usage of data protection, backup, and recovery, within the space in 2018.
Finally, we're also looking at what the impact of GDPR is on data protection. We're gonna have an implementation at mid-year, but people really need to understand how do they address the information, and how do they help people forget or lose or delete that information so it's not stored? With data protection controlling much of the data that is considered personally identifiable information, how can companies know, what do they have? What do they have stored? How are they gonna delete it? And how is this gonna affect how people retain their data? If they're retaining data for a significant period of time, how does the data protection systems and data protection software out there help those companies understand what they have, and delete what they need, in order to be compliant with these regulations?
All three of these areas are gonna be very important going forward for data protection in 2018. It'll be really exciting to see how it pans out, and what we have in store for 2019.